Reflection on Rom 8:3
Post date:
2019-10-05
Autor:
BCP
Reflection on Rom 8:3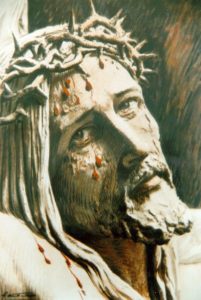 "For what the law could not do in that it was weak through the flesh, God did by sending His own Son in the likeness of sinful flesh, on account of sin: He condemned sin in the flesh."
This verse of Scripture is a continuation of the preceding one which says that the law of the Spirit has made me (you) free from the law of sin and death. Verse 3 speaks about the law, which means the Law of Moses, i.e. the Law of God, which contains certain ordinances which are good and true, but the law does not give us the strength to wholly obey them. The law, as Scripture says, above all convicts us of sin. That is why God sent His Son to die for us. He took human flesh, in other words came in the likeness of sinful flesh on account of sin, to overcome sin, this spiritual poison, in His flesh.
"Surely He has borne our griefs and carried our sorrows … and by His stripes we are healed. … All we like sheep have gone astray; we have turned, every one, to his own way; and the Lord has laid on Him the iniquity of us all. He was oppressed and He was afflicted, yet He opened not His mouth; He was led as a lamb to the slaughter. … He poured out His soul unto death, and He was numbered with the transgressors, and He bore the sin of many, and made intercession for the transgressors." (cf. Isa 53:4-12) This was foretold by the prophet Isaiah several centuries before the coming of Jesus – the Saviour.
By His death, Jesus delivered us from the power of sin. Whoever is in Christ and abides in Him partakes of the law of the Spirit of life. This law overcomes the law of sin and death which works in consequence of original sin. Its mysterious spiritual poison, which we inherit, came from the devil himself and spiritually killed our first parents. This spiritual poison is also called ego, original sin, the source of evil, the old self, corrupt nature, or the devil's seed in us. This invisible spiritual reality which blinds our mind, paralyses our will and drags us to both temporal and eternal destruction is indeed the greatest problem which all mankind and every individual is faced with. The solution to this problem is found neither in Buddha nor in Muhammad nor in Freud nor in Rousseau nor in Zen meditations or yoga practices. The solution is found only and only in Jesus Christ, the Son of God, who became man, took flesh without sin, to carry all sins of mankind to the cross in His flesh and to pay for them with His death. Jesus is not only true man but He is also true God, and therefore He is the only Saviour of mankind and there is salvation in no one else but Him (Acts 4:12).
Jesus overcame on Calvary; He conquered sin and the devil, but this victory is in Him alone. Everyone is exposed to the influence of sin and demonic forces time and again. Human life is just a short test which decides our eternity. Our eternity will either be happy in heaven or unhappy in hell if we choose to serve sin and the devil. So human life is a struggle. The Apostle writes: "Wage the same struggle you saw I had, and now hear that I still have." (cf. Phi 1:30)
It is here that we are to prove our obedience of faith by receiving Christ, His Gospel and His Spirit and by being in union with Him. Otherwise we are automatically in communion with sin and death. And faith, which leads to union with Jesus, not only deprives us of sins but it also gives us true victory and deliverance which is only and only in Christ and in our union with Him.
Download: Reflection on Rom 8:3